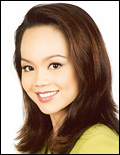 Andrea Nguyễn came to the U.S. as a Vietnamese boat refugee at the age of 5. Her family settled in Houston, where she learned English by listening to country music.

Andrea's TV debut came at the early age of nine when she sang on Vietnam Vision of America, the first Vietnamese television station in Houston. She was a rising star among the Vietnamese community in Houston, performing at many community events, modeling on the cover of several local magazines and hosting and anchoring various Vietnamese television shows.

Andrea majored in broadcast journalism at the University of Houston - because freedom of speech and freedom of the press were things she never could have experienced in her native country.
Xem tiếp...